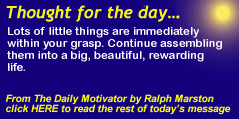 ~~~~~~~~~~~~~~~~~~~~~~
Published weekly FREE by the Center of Light & Serenity
125 Lincolnshire Lane
Springboro, OH 45066
Phone: (937) 748-8119
~~~~~~~~~~~~~~~~~~~~~~
Whatever the tasks that
your soul has agreed to,
whatever its contract with
the Universe is, all of the
experiences of your life serve
to awaken within you the memory
of that contract, and to prepare
you to fulfill it.
-- Gary Zukav, "The Seat of the Soul"
Who is drawn to this site...
Many people who are drawn to this site define themselves as "moving through a period of transition". Often they are experiencing a career transition, loss of significant relationship, a health crisis or another sort of major shift in role (perhaps a job promotion, new marriage, new parent...)
Just as often, those who feel "in transition" have not experienced a shift in their external life situation but rather, they feel as if a shift is happening from within. Do you resonate with any of the "symptoms" on the following list?
- A growing discomfort with your familiar environment which can manifest as feelings that you are no longer satisfied with your occupation or even with your primary relationship.
- A penetrating sense of loneliness, often accompanied by anxiety that your isolation will never end.
- A growing curiosity about your personal needs and a passion to discover what they are and to have them validated by someone who understands what you are experiencing.
- The emergence of skills you never knew you possessed, such as the ability to heal or counsel others, and a shift in your perception of reality. This frequently includes a heightened sensitivity to energetic or vibrational patterns transmitted by people and environments.
- An emerging sense of new identity, which can include discovering new ambitions or desiring to live an entirely new lifestyle.
- Sensations of liberation unlike any you have ever known before as if you have broken away from invisible chains that had attached you to repetitive patterns of behavior that no longer suit the size of your spirit.
- An absolute awareness that something in your life has changed and that, although you may not be certain what the future holds, you definitely can not go back and live as you had before.
The list above was adapted from "The Signals That Self-Discovery has Begun" written by Carolyn Myss in her book "Why People Don't Heal and How They Can." Myss goes on to say, "Everyone on the path to Individual power will become familiar with at least one of these signals or stages, and some may experience several or even all of them." And she adds, "The deep feelings of loneliness that can accompany an awakening require some level of validation, particularly if you are not surrounded by people who understand what you are experiencing."
If more than one of those "symptoms" is familiar to you, you can take a deep breath because you have found your way to a partnership center for people on the path to awareness and heightened consciousness.
_________________________________
This site Copyright2001
the
Center of Light & Serenity
.
Worldwide - All Rights Reserved
[This includes all pages of this website and anything contained therein.]
In accordance with copyright laws, it is illegal to copy or reproduce the SOUL SOOTHERS ONLINE publication either whole or in part without the express and written consent of the Center of Light & Serenity; unless it is for your own personal use. The total issue of any SOUL SOOTHERS ONLINE may be forwarded to an individual as long as it is complete and intack as published. Forwarding of specific articles to any group of individuals (whether for profit or not) can be done only if written permission is obtained from the Center of Light & Serenity. Please abide by these laws.